In this fast paced, competitive real estate market, it's common, in an effort to "win", for buyers to waive contract conditions such as inspection, financing, appraisal, neighborhood review, etc. Buying a condominium is different than buying a house. With condominiums perhaps the most important contract condition in place to protect a buyer is the homeowner association (HOA) resale disclosure documents. The State of Washington requires a seller to provide the HOA resale disclosure to a buyer upon mutual acceptance and the buyer has the right to review and approve or disapprove based on the information contained in the package.
What is a resale certificate? It is a set of documents typically assembled by the condominium's association manager that includes the summary "resale certificate" which discloses information about the HOA, delinquencies, pending special assessments, HOA reserve account balance, owner occupied vs. rental units, pending lawsuits, etc. Supporting documents will include detailed information about the HOA's budget and financial statements, reserve study, meeting minutes, rules and regulations, recorded Bylaws and Declaration and insurance.
This is a large package of detailed information which too often buyers glance at briefly or ignore totally. It's important to understand the health of the HOA and how well it is functioning, how well funded the reserve account is, and what conditions or community rules and regulations could impact a buyer's planned use of the property.
What should you look for? The recorded Declarations can be hundreds of pages, which is overwhelming. There are major pieces you should review, but it's wise to spend some time going through all the documents to understand how the HOA is governed and how owner's monthly assessment dollars are being spent.
Resale Certificate  – A 5-7 page document highlighting the major elements of the HOA (owner occupancy, delinquencies, reserve balance, special assessments, lawsuits, etc.).
Budget and financial statements  –  Review the annual financial statements and current operating budget to see the line-by-line operating expenses. Is the HOA staying within budget? Is the HOA building adequate reserves? Is the HOA financially healthy? Continue reading →
Posted on April 17, 2018 at 9:00 AM
Robin Myers
Category:

condo financing, condo resale disclosures, condominiums, first time buyers, real estate
Tagged

buyers, condo resale disclosures, condominiums, first time buyers, HOA budgets, home ownership, real estate, reserve study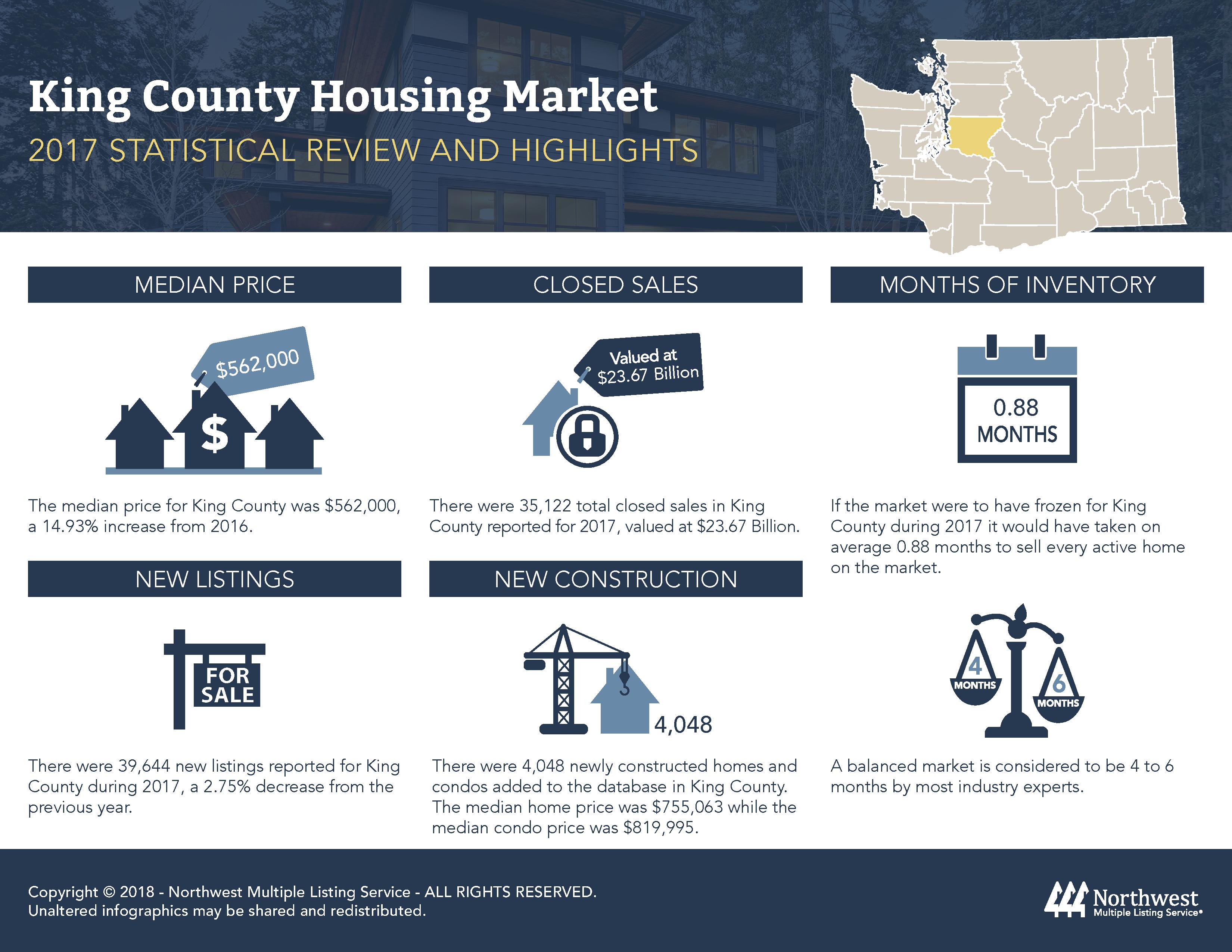 The info-graphic above provides a quick look at 2017 King County real estate market statistics.
nearly 3% more homes (condos and houses) sold in 2017 vs. 2016
the median sales price was up nearly 15% county-wide
at the end of 2017 there was less than a one month supply of available homes
a 4 – 6 month supply is considered normal  –  we haven't sen a "normal" level of supply for 2+ years
Six weeks into 2018 the stats haven't changed much. Homes are coming on the market slowly and are selling quickly. Inventory still can't meet buyer demand. The "spring" market generally opens up in mid-to-late February. Hopefully there will be more condos and houses available as the weather begins to warm.
The take away . . .
Planning to sell? Buyer demand is high but condition and location are still important selling factors.
Ready to buy? Position yourself to be a strong buyer. Meet with your lender and obtain a current loan pre-approval . Work with your Realtor® to educate yourself on neighborhoods, schools, recent sales prices and list vs. sold statistics, commute times, etc.
Expand your options  –  maybe the home that fits your lifestyle isn't a house. Don't rule out a condo or townhouse which can offer a single family lifestyle with lower maintenance responsibility, a great alternative if you don't want a lot of yard or exterior home maintenance.
2018 is expected to be another challenging real estate market for buyers and sellers. Be patient. Be flexible.    Be ready to move quickly.
Robin is a Realtor® with Windermere Real Estate/East. She lives and works in Bellevue and specializes in the Eastside's condo and townhome communities.
Posted on February 13, 2018 at 12:00 PM
Robin Myers
Category:

Bellevue, first time buyers, home property values, real estate
Tagged

Bellevue, buyers, condominiums, Kirkland, property values, real estate, Redmond, sellers, townhomes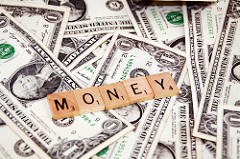 It's a common misconception that a minimum 20% down payment is required to purchase a home. Buyers, saving to put 20% down on a home purchase, could be missing the opportunity to buy a home, and instead are watching prices continue to escalate.
There are excellent loan programs available with 5% or 10% down (even as little as 3.5%), requiring less cash out-of-pocket for buyers. A lower down payment may likely result in a somewhat higher monthly payment, but when you consider that houses and condos in the Seattle/Bellevue area have increased in value 14% or more so far this year, and expected to continue to increase in value next year, waiting to buy could prove to be more costly. With rents also on the rise, it could make more sense to buy this year and start putting money toward building equity rather than toward another rent increase next year. Continue reading →
Posted on October 11, 2017 at 10:06 AM
Robin Myers
Category:

Bellevue, condominiums, first time buyers, home property values, real estate
Tagged

Bellevue real estate, condo financing, condominiums, first time buyers, home ownership, property values, townhomes