It's summer and movies in the park are back! Gather family, neighbors and friends, pack a blanket, lawn chairs and snacks and head to the Downtown Park and Crossroads Park for Tuesday and Thursday night movies. A 40 foot movie screen will show movies in both locations. Seating starts at 7:30 PM and movies begin at dusk.
BELLEVUE DOWNTOWN PARK
August 10th     Trolls World Tour
August 17th     The Croods 2: A new Age
CROSSROADS PARK
August 12th     Onward
August 19th     Raya and the Last Dragon
NOTE:  Movies will be cancelled in the event of rain. Movie titles are subject to change without notice.
I haven't been to Bainbridge Island in years. I recently spent the day in Winslow with a friend who is an artist to see her work on display in a local gallery. After coffee at the waterfront park overlooking Eagle Harbor we explored the Bainbridge Arts & Crafts gallery, viewing her work along with the work of other artists and learned about the history of BA&C and future exhibitions. After cruising the options downtown we settled on an outdoor table at a local winery for lunch.
There's something about a ferry ride that is so relaxing, making you feel like you've really gotten away, even if just for the day. Traveling as a walk-on passenger is even more relaxing, eliminating the car line and worrying about whether you'll make the next sailing. It's a short but beautiful ferry ride from Seattle to Bainbridge Island and an easy walk from the ferry dock to downtown Winslow's museum, shops, galleries, restaurants and parks.
Bainbridge is a great last minute "what should we do today" activity on a sunny day. There's plenty to do for an afternoon or linger a bit longer and make it a dinner date.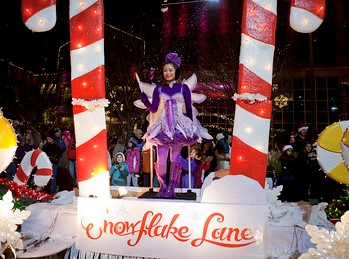 The trees lining Bellevue Way have been decorated in sparkling holiday lights and the toy drums have arrived and line the sidewalks. Soon toy soldiers will take their places on top of the drums. The holidays are almost here.
The Bellevue Collection's Snowflake Lane will have a different look this year. The holiday season kicks off November 27th with a nightly celebration of lights, music and the occasional "snow" shower along Bellevue Way between NE 8th and NE 4th Streets. Keeping everyone's safety in mind, there will be no parade or performers this year, but every night between 5:00 PM and 9:00 PM through December 24th you can still take a walk or drive down Bellevue Way and enjoy the sights, sounds and spirit of the season.
Every year I watch for this maple tree in McCormick Park to change color. Each year the color is a bit different but it never disappoints. The fall colors around downtown Bellevue this season have been exceptionally vibrant  –  maybe the hot weather the end of summer, the smoke in September or exceptionally cold temperatures earlier this month had something to do with the abundance of fall color this year. Downtown Bellevue has so many parks and tree lined streets offering an amazing variety of color. Take the opportunity to get outside and enjoy the fall colors before the rain and wind predicted for later this week end the beautiful fall display.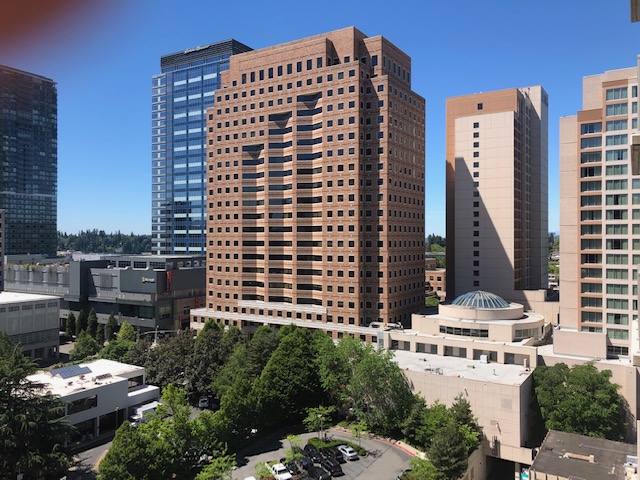 As we enter the seventh month of pandemic survival all indications are the downtown Bellevue condo market has remained strong. Media articles predicted homeowners, driven by pandemic concerns, might choose to abandon the city for suburban homes offering more indoor and outdoor space. Homeowners  may be departing Manhattan and San Francisco, but Bellevue's urban condo marketplace is doing just fine. There was a slight and not unexpected decline in real estate activity in the early weeks of the pandemic  –  we all had to learn how to move about safely  –  but recent NWMLS data shows condo sales in downtown Bellevue have rebounded. Fifty  condos in the central business district sold in the last 3 months and half of those sold at or over the list price. Those homes were on the market an average of 34 days and had a median sales price of $865,100. (An increase of just over 6% over last year.) Currently 68 condos are listed for sale with a median list price of $874,975.
While many are still working remotely, it's unlikely that will continue either full time or permanently. Half a dozen office projects are under construction downtown, most of which are already leased. Amazon, along with many other companies, are continuing to expand or relocate to downtown Bellevue and the Spring District. Employees are expected to start returning to downtown office buildings next year which is likely to add to the demand for housing near workplaces, amenities and light rail.
Bellevue is a great example of a desirable live/work/play community. It has a vibrant central business district with an active arts and entertainment scene supported by world class dining and shopping options. Easy freeway access and the completion of light rail will add convenience and speed to getting around Bellevue and the Eastside.
Is everyone rushing to the suburbs? No. The pandemic may have inspired some to seek a permanent, more  remote lifestyle. As the city returns to normal and continues to grow, urban living will continue to be in demand.
I like to support local businesses, especially these days, and this one has special importance as a townhome owner with a pet. Condo Pet Pals has been a lifesaver. I live downtown and while I walk my dog several times a day, sometimes there isn't enough time between business appointments to fit in a walk. It's also not nearly as much fun to walk in the wind and rain and there's a safety issue when nature calls at odd hours of the night. I've worked with Condo Pet Pals for nearly four years – this is a great solution for urban pet owners and coping with foul weather and late night potty trips.
Condo Pet Pals provides a tray and fresh grass delivered to your deck, patio, courtyard or garage. (Not "fake" grass that can retain odor.) Tray size options are available as well as a bi-weekly or weekly delivery schedule depending on the size or number of dogs. The crew is efficient, always on time and quickly remove soiled sod and replace it with fresh new grass. The soiled grass is taken back to their facility and composted or used as fill. Its an ecologically friendly and sanitary alternative for keeping your pet's potty area fresh and clean. (Keep poop bags handy for clean-up of solid waste.) It took no time for my dog to figure out this was his personal potty space  –  even bought a little fire hydrant to improve his aim.
Love the convenience and the sanitary, odor-free, safe alternative for both my dog and me – makes those occasional midnight potty trips a lot easier and safer too.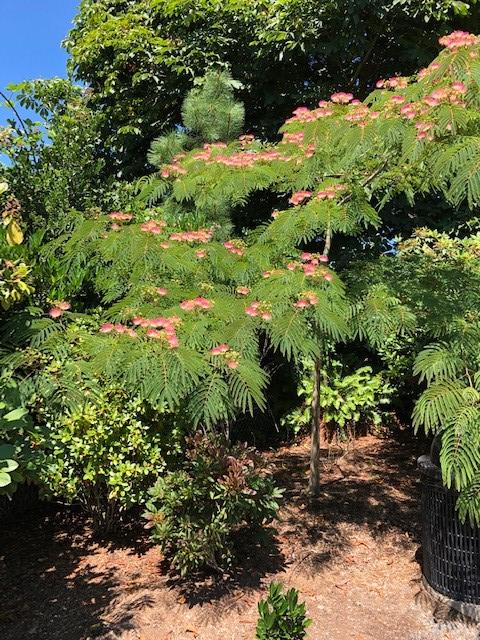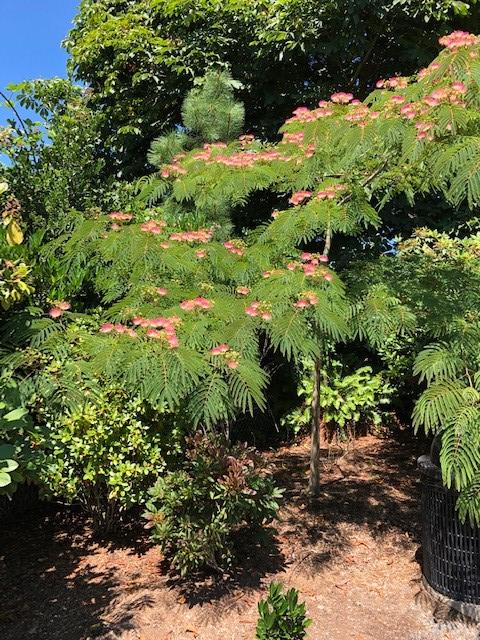 I visit McCormick Park daily with my dog. A couple years ago the City of Bellevue Parks Department planted a new tree, a Mimosa tree, which is unique to this area. I grew up on the East coast where Mimosa trees are common. They thrive in warm southern climates, attract butterflies and hummingbirds and are one of the few trees that bloom in summer with big pink or white puffball blossoms. They're also very unique in that their fern-like leaves fold closed in the evening or when it rains.
I have fond memories of Mimosa trees. My grandparents had two in their yard. They grow in a wide canopy-like shape and my sister and I would gather the pink puffballs and sit under the tree stringing the blossoms together to create necklaces and bracelets and occasionally adorn my grandmother's cat with a pink collar. Skippy never seemed to appreciate her puffy pink collars.
I've lived in the Pacific Northwest for nearly 40 years and have never seen a Mimosa tree growing locally. It's fun to enter the park and see the tree in full bloom with those big pink puffballs. Thanks to the City of Bellevue for a little bit of nostalgia.
With summer weather finally here we're all spending more time outdoors, but with the confines created by the COVID-19 pandemic, we're spending a lot more time outdoors at home. Whether you live in an urban high rise or townhouse, creating privacy on your deck, patio or courtyard can be challenging.
HGTV has provided some interesting and affordable options available for adding a privacy screen to your deck. If you're creative, there's a lot of inspiration here for designing a customized screen to fit your space and decor.
https://www.hgtv.com/outdoors/outdoor-spaces/best-outdoor-privacy-screens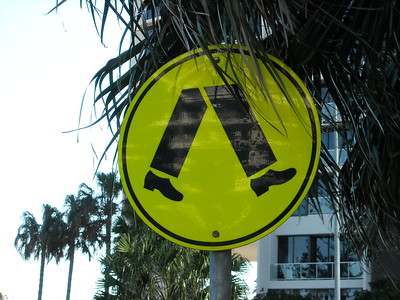 I've lived in Bellevue for over 30 years and downtown for the past dozen years. During the past several weeks of stay home/stay healthy I've logged a lot of miles around downtown Bellevue, often accompanied by two spoiled dogs. I know this city pretty well but have been surprised by the the pocket parks, public plazas and courtyards in commercial spaces and viewpoints I've discovered for the first time. And while currently closed, I've also found new coffee, dining and dessert  options to put on my list to try this summer.
It's going to be a beautiful weekend with summer-like weather predicted for several days. Wherever you live, take advantage of the sunshine and reduced traffic – ride your bike, take a walk, walk the dog, explore your neighborhood, investigate the city, visit the Botanical Gardens or Downtown Park or one of several lake front parks. You may be surprised by what you find.
Happy Mother's Day to all the moms, grand-moms, great grand-moms and dog and cat moms.