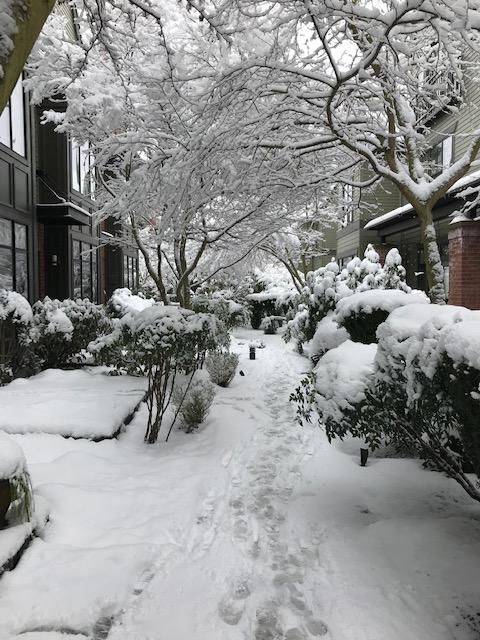 I grew up on the East coast, so was used to several snow storms every winter. School was rarely cancelled or delayed and you hardly ever got a day off work due to snow. The north and mid-Atlantic states on the East coast are prepared for snow every winter. There are more snow plows there than there are Starbucks and Teslas here in Bellevue. Still, when we occasionally get snow here it reminds me of when I was a kid and we couldn't wait until the snow was deep enough to head to the perfect sledding streets.
The Puget Sound region doesn't get as excited about snow – too many hills and not quite as many snow plows. I live downtown and whenever it snows I can't wait to find my snow gear and head out for a walk. Everything seems quieter when its snowing and the skyline takes on a different look in the snow. The dogs love the snow too – they're like little kids jumping, rolling and snow-plowing their noses through the snow. Its great fun to watch the kids build snow people and navigate their sleds down the hillside at Ashford Park. Living downtown, I have the luxury of being able to walk everywhere for anything I need – a definite advantage to urban living.
It's Wednesday afternoon and here comes the snow again. Hope everyone makes it home safely and someone has a hot chocolate ready when you get home. Be patient . . . the days are getting longer and before you know it, it will be spring.