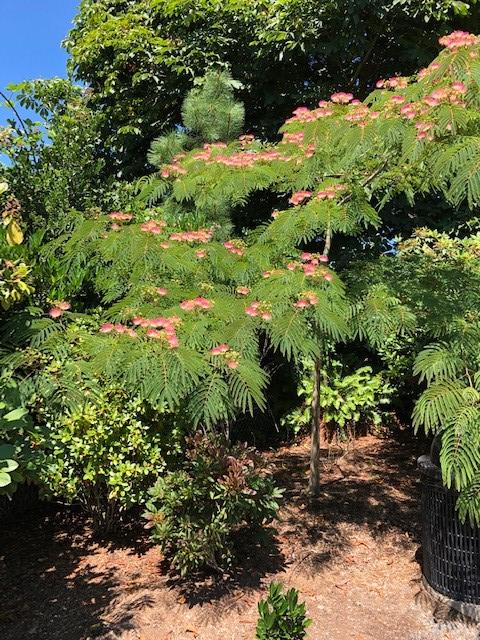 I visit McCormick Park daily with my dog. A couple years ago the City of Bellevue Parks Department planted a new tree, a Mimosa tree, which is unique to this area. I grew up on the East coast where Mimosa trees are common. They thrive in warm southern climates, attract butterflies and hummingbirds and are one of the few trees that bloom in summer with big pink or white puffball blossoms. They're also very unique in that their fern-like leaves fold closed in the evening or when it rains.
I have fond memories of Mimosa trees. My grandparents had two in their yard. They grow in a wide canopy-like shape and my sister and I would gather the pink puffballs and sit under the tree stringing the blossoms together to create necklaces and bracelets and occasionally adorn my grandmother's cat with a pink collar. Skippy never seemed to appreciate her puffy pink collars.
I've lived in the Pacific Northwest for nearly 40 years and have never seen a Mimosa tree growing locally. It's fun to enter the park and see the tree in full bloom with those big pink puffballs. Thanks to the City of Bellevue for a little bit of nostalgia.