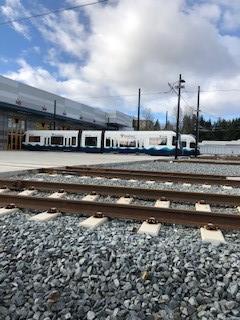 While shops and restaurants were closed throughout 2020, construction progress for Sound Transit's East Link Light Rail continued moving forward. Tracks have been installed across I-90 and throughout the Eastside, stations are under construction, the Bel-Red maintenance facility is complete and  landscaping is beginning to frame the tracks and stations. Driving through the Bel-Red neighborhood last week it was exciting to see trains parked outside the maintenance building.
Great news for commuters . . .parking at the South Bellevue Park-and-Ride will be available to bus riders later this year. The East Link South Bellevue Station garage will open to bus service in September 2021, nearly two years before train service begins.
When East Link opens in 2023 riders will have access to nearly 40 miles of light rail from the Eastside to downtown Seattle, Northgate and Sea-Tac Airport. Trains are scheduled to run every 6 minutes at peak hours. Estimated travel time from the Redmond Technology station to Bellevue Downtown is 10 minutes  –  South Bellevue to Sea-Tac just under 50 minutes.
Building light rail that travels on solid ground and a floating bridge has never been done before. It has taken years to design a safe and dependable system that will integrate with the I-90 floating bridge and continue to sustain auto traffic. Learn more in this video about the design and construction process.