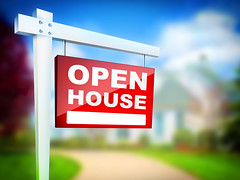 With real estate market activity picking up there will be more open houses to visit in the coming weeks. Are there rules of etiquette when visiting an open house? Common sense and courtesy should prevail, but it can be surprising what visitors think is acceptable when walking through someone else's home.
So what is OK, and what isn't when visiting an open house?
If requested, remove your shoes or slip on shoe covers.
It's OK to open closet and kitchen or bath cabinets or take a peek at attic storage, but it's not OK to open dresser or desk drawers. That's private personal space and what's inside has nothing to do with the features of the home.
Do not use the bathroom  –  take care of that before you leave your house.
If lights are on, leave them on.
If you unlock/open a door, close and lock it.
Never bring food or drink into a home.
If you are visiting with your children keep an eye on them, or better yet, hold their hand while in the home.    DO NOT let them wander freely through the home, run through the house, play with toys that are not theirs or turn on TVs or video games.
There's no need to rush through an open house, but lounging on the family room sofa for 45 minutes to chat isn't acceptable – move that conversation out to your car or your broker's car. Be courteous when the end of an open house is approaching. The owners have vacated their home for several hours and they're ready to come home. If you need more time have your broker schedule an appointment to see the home again.
The Golden Rule applies  –  try to put yourself in the shoes of the homeowner (you may be selling your own home soon). Think about how you'd feel if strangers went through your dresser drawers, pulled toys out or misplaced a TV remote.