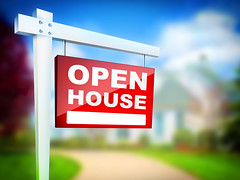 With real estate market activity picking up there will be more open houses to visit in the coming weeks. Are there rules of etiquette when visiting an open house? Common sense and courtesy should prevail, but it can be surprising what visitors think is acceptable when walking through someone else's home.
So what is OK, and what isn't when visiting an open house?
If requested, remove your shoes or slip on shoe covers.
It's OK to open closet and kitchen or bath cabinets or take a peek at attic storage, but it's not OK to open dresser or desk drawers. That's private personal space and what's inside has nothing to do with the features of the home.
Do not use the bathroom  –  take care of that before you leave your house.
If lights are on, leave them on.
If you unlock/open a door, close and lock it.
Never bring food or drink into a home.
If you are visiting with your children keep an eye on them, or better yet, hold their hand while in the home.    DO NOT let them wander freely through the home, run through the house, play with toys that are not theirs or turn on TVs or video games.
There's no need to rush through an open house, but lounging on the family room sofa for 45 minutes to chat isn't acceptable – move that conversation out to your car or your broker's car. Be courteous when the end of an open house is approaching. The owners have vacated their home for several hours and they're ready to come home. If you need more time have your broker schedule an appointment to see the home again.
The Golden Rule applies  –  try to put yourself in the shoes of the homeowner (you may be selling your own home soon). Think about how you'd feel if strangers went through your dresser drawers, pulled toys out or misplaced a TV remote.
Posted on January 22, 2020 at 4:52 PM
Robin Myers
Category:

condominiums, first time buyers, moving, open house, real estate
Tagged

affordable housing, Bellevue condominiums, Bellevue real estate, condominiums, open house, real estate
If you've been inspired to do some spring cleaning, this weekend's recycling event is the perfect place to drop off those items that don't have any usable life left in them.
Saturday, May 26th   9:00 AM – 3:00 PM
Bellevue Presbyterian Church   1717 Bellevue Way NE
The event is free  –  accepted items include:
—  auto parts (non-greasy)
— appliances (blenders, dishwashers, washers & dryers, microwaves, stoves,
toasters)
— clean scrap wood (untreated and unpainted)
— electronic equipment (DVD/VCR, cell phones, computer keyboards and mice, copiers, printers, stereos)
— exercise equipment
— lawnmowers (drain oil and gasolines)
— lead acid batteries
— metal  lawn furniture
— rigid plastics (buckets, toys, coolers, lawn furniture, PVC pipe)
— styrofoam blocks & packing materials (white blocks and packing peanuts of any color)
There are fees for some items . . .
— appliances and scrap metal (air conditioners $33, refrigerators/freezers $28, water heaters $5)
–mattresses and box springs $15 per item
–porcelain toilets & sinks $15 each  –  propane tanks ($5 each)  –  small empty camping tanks ($1 each)
–tires – 6 max ($1/each tire, $3.50/each tire on a rim, $5/each large truck tire, $15/each large truck tire on a rim)
Secure shredding is also available  –  limit of 5 file size boxes
ITEMS NOT ACCEPTED – containers that previously or currently contain gas, oil, chemicals or paint
For more information call 425-452-6932
Downsizing can happen at any phase of life and for many reasons. Moving, if it involves a major lifestyle change, can be an especially difficult and emotional process. Whether you're moving yourself or assisting a family member or friend, there are ways to make the process easier and less stressful.
Define, or Redefine Your Needs
If you're moving to a smaller home, compromising on space doesn't need to mean compromising on lifestyle. Think about how you currently use your existing space, what rooms go unused on a daily basis, how much time you spend on upkeep, plus the expense. Then look at how you would ideally like to set up a new space to maximize not only how you would use the space but also how it could be a better fit for your lifestyle.
Must Have, Should Have, Could Have and Won't Have
Downsizing is a compromise, and while it may feel like there are sacrifices, in the end it will be well worth the effort. Make a list of what must go with you and what won't fit into your new home. Couples can make separate lists and then collaborate to revise them if needed (this works for the kids too). An easy exercise is to think about leaving everything in your old home behind  –  then ask yourself what you would absolutely have to replace in order to live comfortably. If there's a frequently used piece you want to take but it won't fit in the new space, think about a smaller, more practical replacement that might offer multi-use options.
Use Space More Creatively
Quick tips for making more space with less space:
— Reserve kitchen counter space only for frequently used appliances. Keep other less frequently used items stored in
cabinets.
— Invest in space saving tools (wall mounted magnetic knife rack, drawer/cabinet organizers or roll-out
cabinet shelves so that those items in the back are more easily accessible.
— Look for multi-use furniture  –  living room ottomans with storage or beds with drawers built-in. Use storage bins
that slide out-of-sight under a bed (great for off season clothing or kid's toys).
— Is there unused space under a staircase or in the back of a deep closet where custom storage could be created? Continue reading →