Living in communities close to workplaces, shopping, dining and other amenities is becoming increasingly important to buyers when searching for a home. A recent survey conducted on behalf of the National Association of REALTORS® found over half of the respondents preferred to live in a community that offered smaller or no yards but  was within walking distance of local amenities and offered shorter work commutes.
Buyers no longer look at just the house – equally, or even more important, is the community and access to workplaces,  shopping, dining, transportation, schools, health care and parks or open space. Women tend to put more importance on walk-ability and public transit than men but overall nearly 40% said having public transit nearby was important. Sixty percent of those surveyed would be willing to pay more to live within walking distance of parks, restaurants and shops.
In Bellevue the popularity of urban living was recently confirmed when the One88 condominium residences celebrated the grand opening and sales event. Over 80% of the homes sold in just weeks with buyers committing to reservations to purchase homes that won't be available for two years. Several new Bellevue townhome communities have experienced the same robust sales activity with buyers committing to pre-sales for homes not scheduled for completion until late spring or summer. Resale condos and townhomes throughuot the eastside, walk-able to urban amenities and workplaces, are experiencing the same high level of buyer interest.
Posted on April 4, 2018 at 11:22 AM
Robin Myers
Category:

Bellevue, condominiums, home property values, lifestyle, light rail
Tagged

Bellevue, Bellevue real estate, city living, condominiums, Kirkland, light rail, real estate, TRANSPORTATION, walk-ability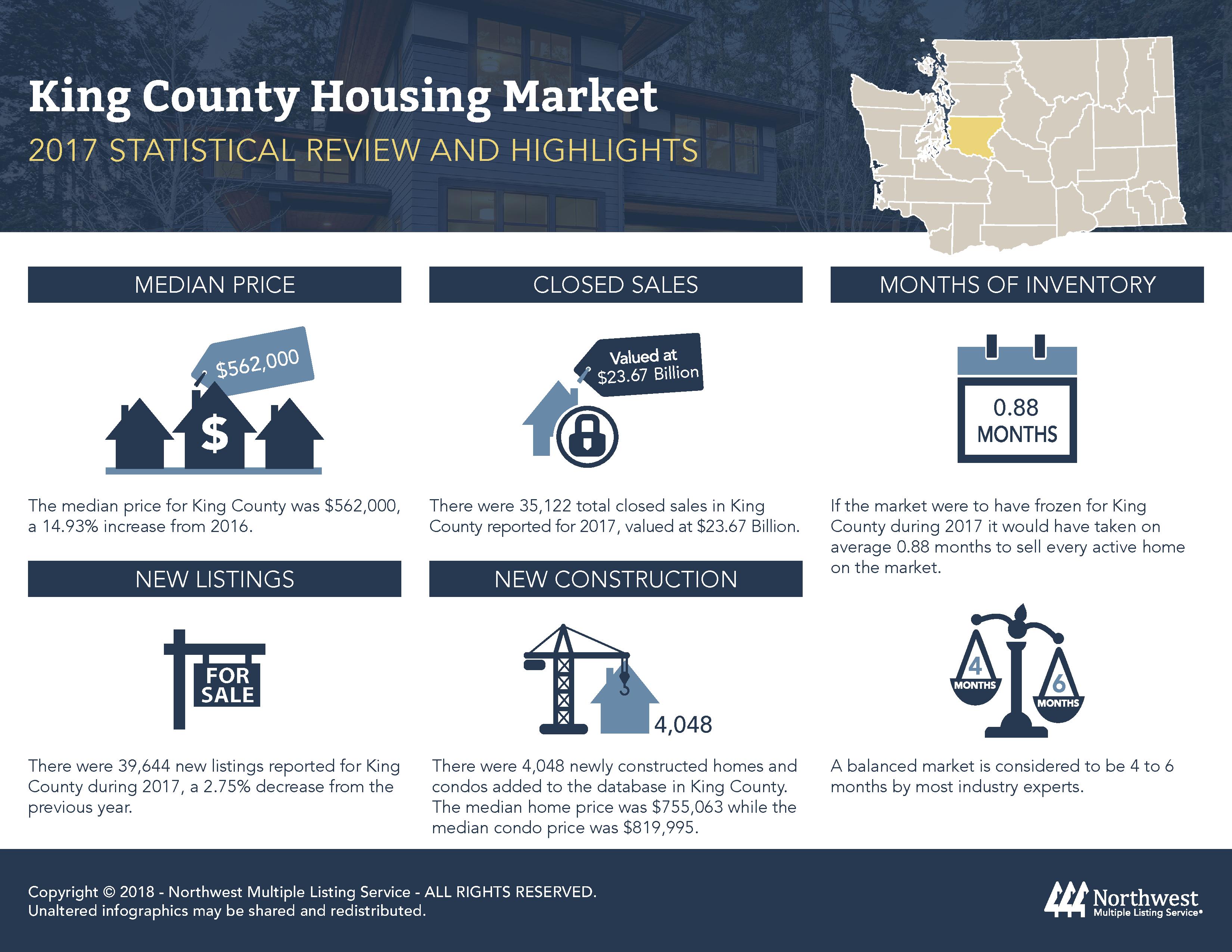 The info-graphic above provides a quick look at 2017 King County real estate market statistics.
nearly 3% more homes (condos and houses) sold in 2017 vs. 2016
the median sales price was up nearly 15% county-wide
at the end of 2017 there was less than a one month supply of available homes
a 4 – 6 month supply is considered normal  –  we haven't sen a "normal" level of supply for 2+ years
Six weeks into 2018 the stats haven't changed much. Homes are coming on the market slowly and are selling quickly. Inventory still can't meet buyer demand. The "spring" market generally opens up in mid-to-late February. Hopefully there will be more condos and houses available as the weather begins to warm.
The take away . . .
Planning to sell? Buyer demand is high but condition and location are still important selling factors.
Ready to buy? Position yourself to be a strong buyer. Meet with your lender and obtain a current loan pre-approval . Work with your Realtor® to educate yourself on neighborhoods, schools, recent sales prices and list vs. sold statistics, commute times, etc.
Expand your options  –  maybe the home that fits your lifestyle isn't a house. Don't rule out a condo or townhouse which can offer a single family lifestyle with lower maintenance responsibility, a great alternative if you don't want a lot of yard or exterior home maintenance.
2018 is expected to be another challenging real estate market for buyers and sellers. Be patient. Be flexible.    Be ready to move quickly.
Robin is a Realtor® with Windermere Real Estate/East. She lives and works in Bellevue and specializes in the Eastside's condo and townhome communities.
Posted on February 13, 2018 at 12:00 PM
Robin Myers
Category:

Bellevue, first time buyers, home property values, real estate
Tagged

Bellevue, buyers, condominiums, Kirkland, property values, real estate, Redmond, sellers, townhomes