This week Matthew Gardner, Windermere Chief Economist, takes a look at the US housing forecast for 2021. Topics include mortgages, existing home sales, existing home values, new construction, the impact of homes in forbearance  and the urban condo market. Overall the outlook is positive for a continuing strong real estate market and low interest rates.
This week Matthew Gardner, Windermere's Chief Economist, shares his thoughts on the latest US home sales data.
Single family and multi family home values continue to rise while available inventory levels continue to decline. What's the news for condos? Condo prices are trending higher nationwide, up 10% year-over-year. It's difficult to know how long this trend can be sustained as we close 2020. What could impact values next year? We may hit an affordability issue, which could push some buyers out of the market, and increasing inventory levels may create more selection for buyers but more competition for sellers.
I specialize in Bellevue's condo and townhome communities. If you have questions about the market or what's been happening in your community, call, text or email.
Happy Thanksgiving. While this year may be very different from years past, if you have an opportunity to safely share the holiday with family, enjoy the day. Be safe and stay healthy.
Its been rumored for years that Factoria Mall would be redeveloped to make better use of the large parcel. The mall and several free standing buildings currently occupy the 43 acre site. An application for design review has been submitted to the City of Bellevue for redevelopment of the Marketplace at Factoria. Eight phases are planned which will include expanding current retail space, adding a multi-family residential building, 150 room hotel, office  buildings and renovation of the existing mall to increase the size and create an open-air shopping mall. Current retail tenants may need to be relocated throughout the redevelopment process that will add 151,000 square feet of retail to the mall's current 525,948 square feet. The project will be completed in 8 phases.
Improvements include pedestrian improvements to create a safer walking environment, enhanced landscaping, an extension of the bike/pedestrian path and a new crosswalk across SE 38th Street.
Later phases of the project will add a large gathering plaza to connect to two new office buildings to be constructed on the current Walmart site, which will be moved to a new location within the project.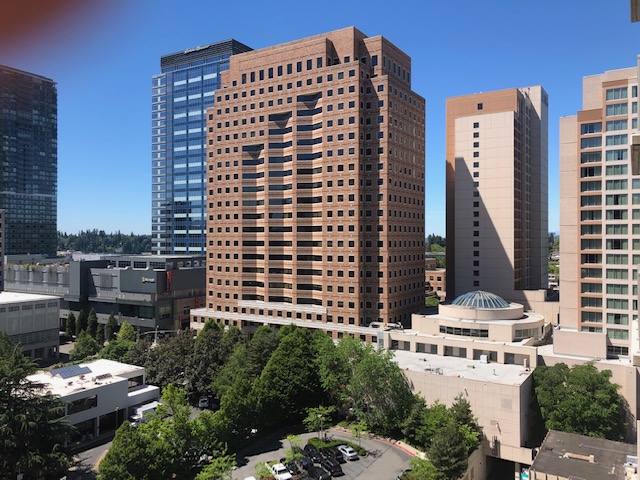 As we enter the seventh month of pandemic survival all indications are the downtown Bellevue condo market has remained strong. Media articles predicted homeowners, driven by pandemic concerns, might choose to abandon the city for suburban homes offering more indoor and outdoor space. Homeowners  may be departing Manhattan and San Francisco, but Bellevue's urban condo marketplace is doing just fine. There was a slight and not unexpected decline in real estate activity in the early weeks of the pandemic  –  we all had to learn how to move about safely  –  but recent NWMLS data shows condo sales in downtown Bellevue have rebounded. Fifty  condos in the central business district sold in the last 3 months and half of those sold at or over the list price. Those homes were on the market an average of 34 days and had a median sales price of $865,100. (An increase of just over 6% over last year.) Currently 68 condos are listed for sale with a median list price of $874,975.
While many are still working remotely, it's unlikely that will continue either full time or permanently. Half a dozen office projects are under construction downtown, most of which are already leased. Amazon, along with many other companies, are continuing to expand or relocate to downtown Bellevue and the Spring District. Employees are expected to start returning to downtown office buildings next year which is likely to add to the demand for housing near workplaces, amenities and light rail.
Bellevue is a great example of a desirable live/work/play community. It has a vibrant central business district with an active arts and entertainment scene supported by world class dining and shopping options. Easy freeway access and the completion of light rail will add convenience and speed to getting around Bellevue and the Eastside.
Is everyone rushing to the suburbs? No. The pandemic may have inspired some to seek a permanent, more  remote lifestyle. As the city returns to normal and continues to grow, urban living will continue to be in demand.
Matthew Gardner, Windermere Real Estate's Chief Economist, is back from vacation (sporting a new look) and talks about the relatively unknown U.S. Household Debt and Credit Report. While this may not sound very sexy, it actually contains interesting information. The report provides insights and data on national housing finance. Not surprising, mortgages and student debt represent the largest debt numbers, but the good news is that mortgage delinquency rates are down. Take a quick look, and have a great week.
I like to support local businesses, especially these days, and this one has special importance as a townhome owner with a pet. Condo Pet Pals has been a lifesaver. I live downtown and while I walk my dog several times a day, sometimes there isn't enough time between business appointments to fit in a walk. It's also not nearly as much fun to walk in the wind and rain and there's a safety issue when nature calls at odd hours of the night. I've worked with Condo Pet Pals for nearly four years – this is a great solution for urban pet owners and coping with foul weather and late night potty trips.
Condo Pet Pals provides a tray and fresh grass delivered to your deck, patio, courtyard or garage. (Not "fake" grass that can retain odor.) Tray size options are available as well as a bi-weekly or weekly delivery schedule depending on the size or number of dogs. The crew is efficient, always on time and quickly remove soiled sod and replace it with fresh new grass. The soiled grass is taken back to their facility and composted or used as fill. Its an ecologically friendly and sanitary alternative for keeping your pet's potty area fresh and clean. (Keep poop bags handy for clean-up of solid waste.) It took no time for my dog to figure out this was his personal potty space  –  even bought a little fire hydrant to improve his aim.
Love the convenience and the sanitary, odor-free, safe alternative for both my dog and me – makes those occasional midnight potty trips a lot easier and safer too.