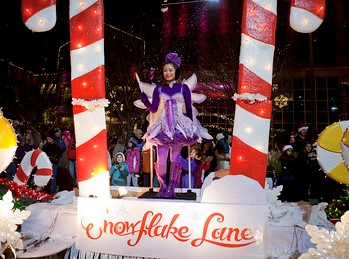 The trees lining Bellevue Way have been decorated in sparkling holiday lights and the toy drums have arrived and line the sidewalks. Soon toy soldiers will take their places on top of the drums. The holidays are almost here.
The Bellevue Collection's Snowflake Lane will have a different look this year. The holiday season kicks off November 27th with a nightly celebration of lights, music and the occasional "snow" shower along Bellevue Way between NE 8th and NE 4th Streets. Keeping everyone's safety in mind, there will be no parade or performers this year, but every night between 5:00 PM and 9:00 PM through December 24th you can still take a walk or drive down Bellevue Way and enjoy the sights, sounds and spirit of the season.
Its been rumored for years that Factoria Mall would be redeveloped to make better use of the large parcel. The mall and several free standing buildings currently occupy the 43 acre site. An application for design review has been submitted to the City of Bellevue for redevelopment of the Marketplace at Factoria. Eight phases are planned which will include expanding current retail space, adding a multi-family residential building, 150 room hotel, office  buildings and renovation of the existing mall to increase the size and create an open-air shopping mall. Current retail tenants may need to be relocated throughout the redevelopment process that will add 151,000 square feet of retail to the mall's current 525,948 square feet. The project will be completed in 8 phases.
Improvements include pedestrian improvements to create a safer walking environment, enhanced landscaping, an extension of the bike/pedestrian path and a new crosswalk across SE 38th Street.
Later phases of the project will add a large gathering plaza to connect to two new office buildings to be constructed on the current Walmart site, which will be moved to a new location within the project.
Every year I watch for this maple tree in McCormick Park to change color. Each year the color is a bit different but it never disappoints. The fall colors around downtown Bellevue this season have been exceptionally vibrant  –  maybe the hot weather the end of summer, the smoke in September or exceptionally cold temperatures earlier this month had something to do with the abundance of fall color this year. Downtown Bellevue has so many parks and tree lined streets offering an amazing variety of color. Take the opportunity to get outside and enjoy the fall colors before the rain and wind predicted for later this week end the beautiful fall display.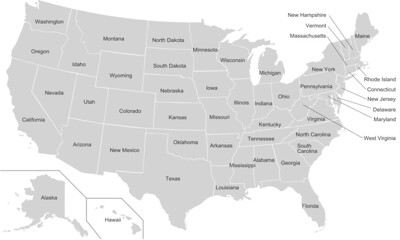 Every year Livability.com ranks the best 100 small to midsize cities to live in the country based on affordability, safety, economic stability, outdoor recreation, accessibility and community engagement. This year the survey added an "opportunity score" which reflects the city's job offerings, economic resilience and growth.
Fort Collins, CO was ranked the best place to live in 2020 followed by:
 Fort Collins, CO
Ann Arbor, MI
Madison, WI
Portland, ME
Rochester, NY
Asheville, NC
Overland Park, KS
Fargo, ND
Durham, NC
Sioux Falls, SD
The Pacific Northwest was well represented with nine cities making the list:
Corvalis, OR #19
Bellingham, WA #33
Bend, OR #45
Eugene, OR #46
Spokane, WA #49
Vancouver, WA #59
Olympia, WA #66
Beaverton, OR #67
Tacoma, WA #75
To view the entire list of this year's best places to live visit Livability.com.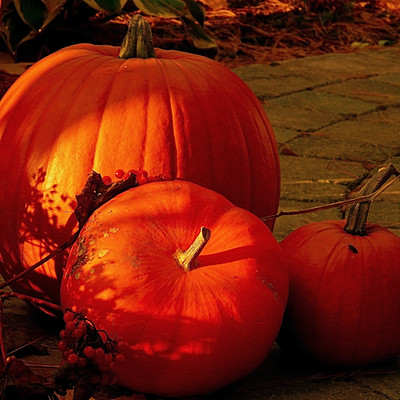 Social distancing restrictions are going to limit traditional Halloween activities this year. If you're looking for a fun family event, check out Bellevue's Vasa Park Resort Drive-In Theatre. Classic Halloween movies will be shown this weekend and again the weekend of October 23rd/24th.
Some dates are already sold out . . . visit Vasa Park's website (https://www.vasaparkresorteventcenter.com) for the movie schedule, tickets and concessions menu.
Friday, October 9th             Hocus Pocus                           sold out
Saturday, October 10th      Coco: Day of the Dead          sold out
Friday, October 23rd          Addams Family
It looks like fall weather and rain are the new normal. I can't remember the last time our morning walk required rain gear for both me and the dog. Fall arrived this week leaving no doubt there has been a change in seasons. Fortunately Duffy loves wearing his rain and winter coats. He's built pretty low to the ground, so the rain coat only keeps the upper half of his body dry. Love that wet dog fragrance.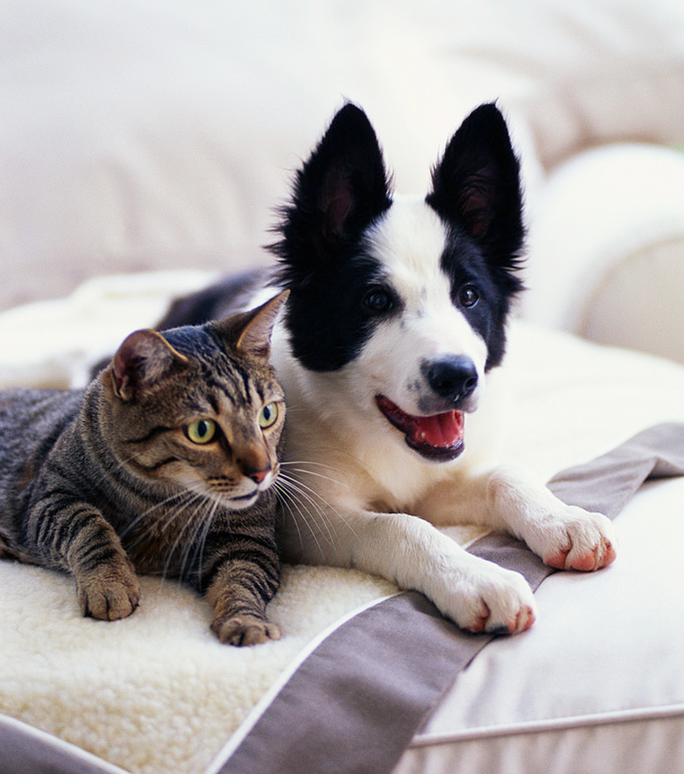 Brush and forest fires aren't often a concern in the city. This week suburban, farm and agricultural communities in Bonney Lake and Sumner were caught off guard by a fast spreading fire that has caused evacuations, property damage and danger to people, farm animals and wildlife. If you live in a suburban community or a high rise city condo, you need a pet emergency evacuation plan.
You may already have an earthquake kit or an emergency "go-bag" with flashlights, water, food, etc. Maybe you've practiced a family evacuation plan. Whether you live in a high rise condo, a suburban single family community or rural farm . . . have you included your pets in your family's emergency plan?
Your pet needs it's own emergency "go-bag" with supplies (and medications) for 3-5 days. It should include food, bowls, treats, extra harness, collar and leash, plenty of water, doggy poop bags or kitty litter, vet contact and Rx information, a towel or blanket to warm or comfort a pet or provide a resting spot. If you evacuate by car, a crate is great to have to keep your pet safe, calm and confined while traveling. If you have no choice but to leave a pet behind, put pet alert signage in a window with the number/type of pet and your contact information so emergency personnel know to search for your pet and how to contact you.
We always think the worst won't happen, but so far 2020 has shown us that a lot can happen that we haven't planned for. For more information, human and pet emergency safety tips visit www.redcross.org.
I like to support local businesses, especially these days, and this one has special importance as a townhome owner with a pet. Condo Pet Pals has been a lifesaver. I live downtown and while I walk my dog several times a day, sometimes there isn't enough time between business appointments to fit in a walk. It's also not nearly as much fun to walk in the wind and rain and there's a safety issue when nature calls at odd hours of the night. I've worked with Condo Pet Pals for nearly four years – this is a great solution for urban pet owners and coping with foul weather and late night potty trips.
Condo Pet Pals provides a tray and fresh grass delivered to your deck, patio, courtyard or garage. (Not "fake" grass that can retain odor.) Tray size options are available as well as a bi-weekly or weekly delivery schedule depending on the size or number of dogs. The crew is efficient, always on time and quickly remove soiled sod and replace it with fresh new grass. The soiled grass is taken back to their facility and composted or used as fill. Its an ecologically friendly and sanitary alternative for keeping your pet's potty area fresh and clean. (Keep poop bags handy for clean-up of solid waste.) It took no time for my dog to figure out this was his personal potty space  –  even bought a little fire hydrant to improve his aim.
Love the convenience and the sanitary, odor-free, safe alternative for both my dog and me – makes those occasional midnight potty trips a lot easier and safer too.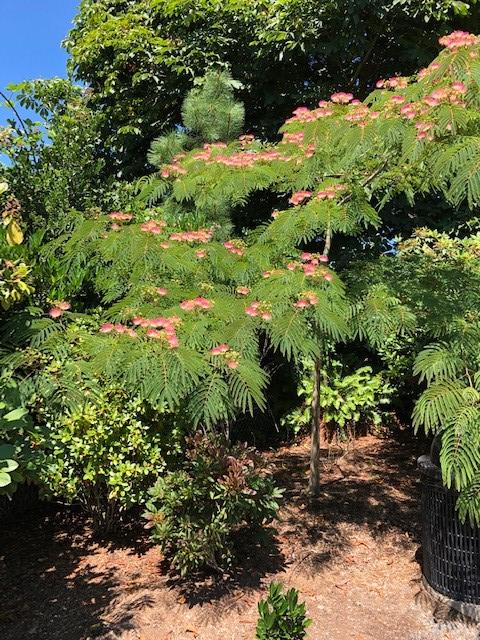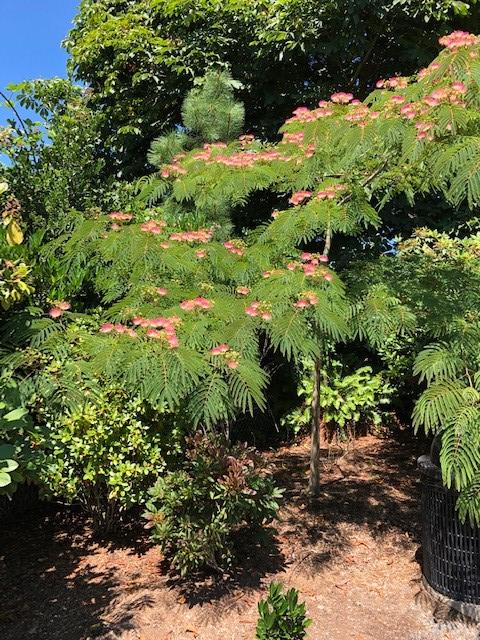 I visit McCormick Park daily with my dog. A couple years ago the City of Bellevue Parks Department planted a new tree, a Mimosa tree, which is unique to this area. I grew up on the East coast where Mimosa trees are common. They thrive in warm southern climates, attract butterflies and hummingbirds and are one of the few trees that bloom in summer with big pink or white puffball blossoms. They're also very unique in that their fern-like leaves fold closed in the evening or when it rains.
I have fond memories of Mimosa trees. My grandparents had two in their yard. They grow in a wide canopy-like shape and my sister and I would gather the pink puffballs and sit under the tree stringing the blossoms together to create necklaces and bracelets and occasionally adorn my grandmother's cat with a pink collar. Skippy never seemed to appreciate her puffy pink collars.
I've lived in the Pacific Northwest for nearly 40 years and have never seen a Mimosa tree growing locally. It's fun to enter the park and see the tree in full bloom with those big pink puffballs. Thanks to the City of Bellevue for a little bit of nostalgia.
Many of us, whether temporary or permanently, are working from home. If your home doesn't have dedicated office space, you can create a dedicated office area using a nook or alcove between rooms or a loft area at the top of a stair landing. The space doesn't need to be big but can be defined and designed to fit your needs. Once you've identified a space, all you need is a desk that fits the space to create a customized work-from-home space. The HGTV link below has some great inspiration for stylish, functional home office solutions for small spaces. (There is a link for more information or how to purchase each of the featured desks.)
Check out these affordable and stylish desks for small spaces!